Maryland Playground Shades Installations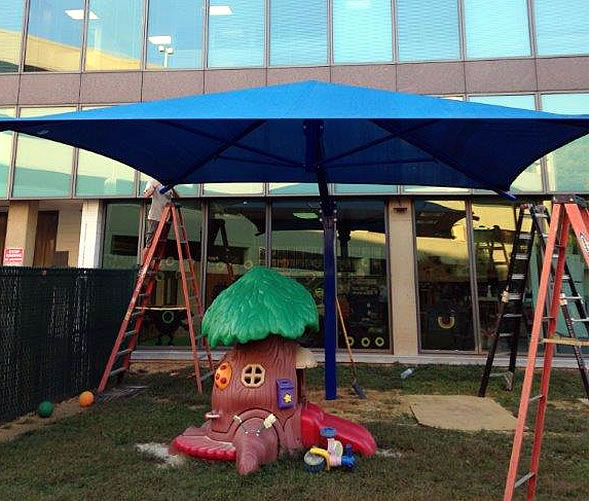 Our company installs playground shades in Maryland. Our parent company, Maryland Materials, has been in business since 1986. During that time, we have installed dozens of shade structures of various shapes and sizes at schools, universities, and homeowner associations all over the Free State. Unlike some companies online, we don't just sell these units from a catalog — we've dug the holes, poured the concrete, and ridden that scissor-lift into the sky to attach the shade canopies to the posts.
Installing a shade structure isn't rocket science — a team or 2 or more people with some basic construction experience can usually do it without too much trouble, at least for the smaller shades. But any construction project has specialized knowledge that you pick up over time, and our company knows exactly how to do it and what problems may arise. For the larger shade structures, you definitely want to work with an experienced team that knows exactly how to install them and what to expect. That's where we come in. To see a video of our team in action, just go to the Gallery page of this website.
Our company is based in Gaithersburg, Maryland. We have built playground shades in most of the counties in the state, and we'll travel further afield for the right project. For shade structure installations in Maryland, we're the company to call.
Once your shade is installed, you should keep a careful eye on the weather. Maryland usually gets snow in the winter, and even a couple of inches can strain shade canopy attachments and put unnecessary weight on the structure. So, we also offer the service of removing shade canopies in autumn and putting them back on when winter is over.
For more information about our services for shade structure installations in Maryland, just phone us locally at 301-840-0707. Or, if you just have general questions about shades, please feel free to give us a call. We're standing by to help!