Playground Sail Shades
Modern Design and Long-Lasting Canopies, To Your Specifications
Long hours outdoors means harsh exposure to the sun. Sail-design playground shades offer coverage in a variety of configurations, including multiple canopies, vertical posts, and heights. They're modern in design but traditional in the shadows they cast across your play area. Sails can be triangle-shaped or even attach to standard 4-post structures to give a unique look (see photo below).
Sail Shades Specifications
Sail shades are adaptable to all different sizes, so no matter what size playground you have there is a sail option for you. Even in tough weather conditions our sails passed the test, standing up to heavy rain and winds of up to 80 miles per hour.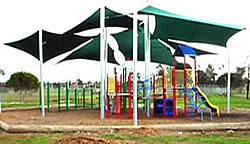 Not only will your students be protected, but also the equipment they play on; shade structures offer a means of protecting your playground equipment from the additional wear cause by full-on sun exposure.
But exactly how much cooler does a shade sail make your playground or park? This is something to consider, since summer is right around the bend. The shade provided by the tension canopy design of our shade sails reduce the temperature by 10 to 15 degrees Fahrenheit. The breathable material of the shades don't trap heat under the sails. They even do a good job of circulating the air based on industry standards.
What Are Your Shade Options?
Our experts can help you choose from the wide variety of sail shades that we have. You tell us what size your playground is and will help you work out the right structure. We can even customize certain models of sail shades depending on what your needs are.
Playground Sail Shades Pricing
Pricing for sail shades isn't shown on this page because there are so many variables involved in the pricing, including the size of the area you would like to shade; the number of shade canopies you need; the number of posts you would like; and the height of the canopies. To get an idea of the cost of your project, just phone us toll free at (877) 840-0707, and we can talk to you about options and pricing. You may also check out the product page by clicking on the quote cart button.   Quote Cart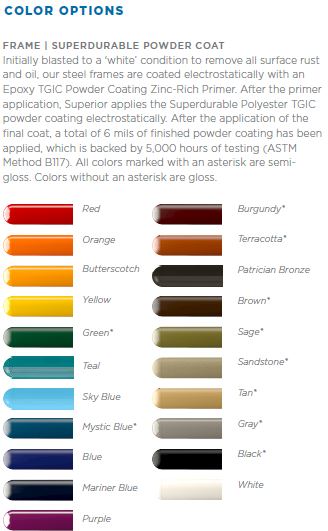 Colors Available
Many different colors are available for the vertical posts and the canopies, as you'll see in the diagram on this page. You can mix and match to your heart's content!
Financing Your Sail Shade Purchase
We also understand that this is a big purchase for many organizations and the funds for the project may not be as immediate as the need, which is why we offer options for financing.  Call us at (877) 840-0707 for pricing and model options. Click here to see our gallery of other playground shades.