Description
The beauty of a shade sail is that they are not only aesthetically pleasing, but a very effective way to add protection against the sun. They are a popular choice for playgrounds or any outdoor area, such as swimming pools, golf courses or any sort of public space.
The Benefits of a Sail Shade
Sail shades can be customized to meet all kinds of sizes. No matter what playground size you have there is a sail option for you.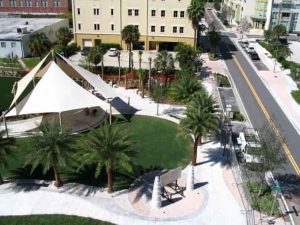 A sail shade also stands tough  weather conditions, such as heavy rain and winds up to 80 mph. If you are using a sail shade for a playground, your students will not only be protected, but also the equipment. A sail shade is probably the most effective way to cool down a playground. In fact, having a playground shade can reduce the temperature by 10 to 15 degrees Fahrenheit. These shade are made from a breathable fabric material that doesn't trap head under the sail.
What Are Your Sail Shade Size Options?
All sail shades are custom made. Once you tell us the dimensions of your playground, we can then propose a shade size that will fit your playground. Keep in mind that any size can be custom designed for your playground or outdoor area. Our experts are here to help.
Sail Shade for Playground and Outdoor Structures