Description
Playground hip roof shades in hexagon shapes are frequently seen on playgrounds. The "hip roofs" are supported by vertical exterior posts around the edge of the canopy. The strength and tension of these vertical posts can support large canopies very high off the ground. As such, they cast large shadows and can shelter entire playgrounds from the sun's potentially harmful UV rays.
The benefits of hip roof shades
Hip roof hexagon shades are seen more commonly over picnic areas, creating a large shadow with a relatively low height (usually 8 feet above ground level). We've also sold them for use over sandboxes and other areas where smaller kids play.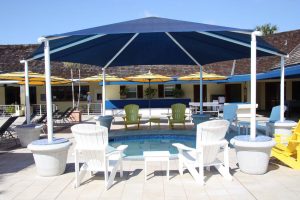 The manufacturer designs these shades to industrial strength, so they'll stand up in winds up to 80 mph. (The shades' steel structures are rated up to 150 mph.) On every shade, the fabric can be removed for winter storage using a patented easy, quick-release system.
There are many other benefits to installing our commercial-grade shade structures on your play area, including:
• Up to 99% UV screening, up to 92% shade (depending on fabric color)
• 80% water repellent
• Cooler equipment — protects paint & plastic from fading
• Cooler children — minimize heat exhaustion, sunburn, or sunstroke.
• Long service life — 10 year limited warranty
• Wide selection of colored fabric and colored powder coating for the steel components
• Custom sizes are available, in whatever dimensions you need. For more information, just phone us toll free at (877) 840-0707.
Colors Available for Canopy Fabric
We offer the canopies in many colors. Please see diagram on this page for sample colors.
Powder Coating Colors for Steel Components